Contact:
Patty Murray
313-212-8620
coaches@team2834.com
Bloomfield Hills, Michigan, 11/13/2023
The future of STEM education took center stage at the 11th annual Bloomfield Girls Robotics Competition (BGRC) on November 4th, where young innovators showcased their prowess in robotics and engineering. The event, held on November 4th at Bloomfield Hills High School, witnessed an inspiring display of talent and enthusiasm as high school girls from across the region gathered to compete and collaborate in the field of robotics.
One of the highlights of the event was the announcement of five exceptional scholarship winners, recognizing their outstanding contributions, leadership, and dedication to the world of robotics. These scholarships aim to encourage and support the next generation of female leaders in STEM. The scholarship recipients, chosen from a competitive pool of participants, demonstrated not only technical excellence but also a commitment to teamwork, creativity, and problem-solving.
Teams gathered from several schools, cities, and counties to field teams of only girls in a highly competitive off-season tournament. The event's winners were teams from Pontiac, Grand Blanc, Farmington, and Ann Arbor. It was a truly exciting day of competition for everyone involved.
The Bionic Black Hawks of Bloomfield Hills High School, Team 2834, hosted this annual event, along with co-hosts Truck Town Thunder from Ortonville, Las Guerillas from Pontiac, and Argonauts from Troy. The Black Hawks always put many critical jobs in the hands of its girls, and are proud to have so many strong young women in STEM. While the girls competed, the team's boys helped to run and manage the event; directing traffic, selling concessions and taking pictures. This is one of the team's favorite events to host each year, and has a great impact on the future of STEM and FIRST Robotics.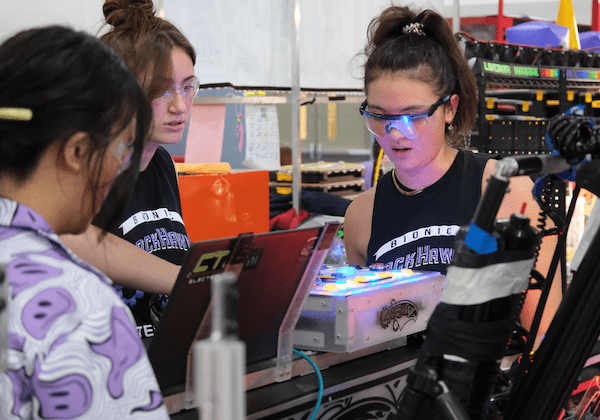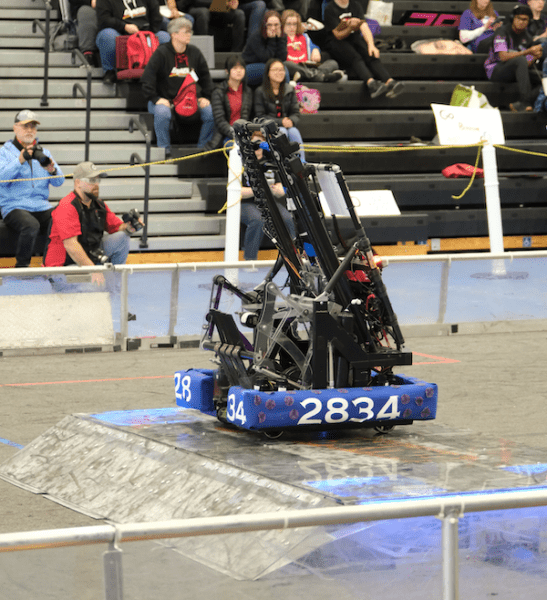 Bloomfield Girls Robotics Competition a Success!